Harvard-Educated Bestselling Author
Hi, I'm Jeremy McGilvrey and while we've never met…I know why you're here:
You have a brand, product, or service you're proud of. It produces results, solves a problem in people's lives – and really works.
However: your website, sales funnel and digital marketing have become a roadblock to more growth, success, and profit.
Maybe you've gotten to this place in spite of a lackluster digital presence. And while that's a good thing, you know it's not going to get you to the next level in an ever-evolving digital world where you and I are competing for people's ever-shrinking attention spans.
And you've probably tried quite a few things, right?
Such as hiring a fancy web designer who was brilliant at creating a stunning aesthetic but knew nothing about what actually converts…
Paying an arm and a leg to another "agency" who promises the absolute world and continues to drain your resources as they blame the algorithm…
Wasting your time and energy trying to figure stuff out on your own and seeing other people's websites and sales funnels convert like wildfire…
Now, let be me clear:
If your website and/or sales funnel isn't turning browsers into buyers and those buyers into profitable customers with an ever-increasing profit margin:
You're missing out on huge growth.
You're missing out on massive profits.
You're missing out on creating an impact.
Why? Because my clients come to me after making all types of hires that didn't produce results with a tangible ROI you can see across every measurable number – your traffic, conversions, and profit.
And most importantly, what these results represent: for you to have an "always on" 24/7 sales force that moves prospects along the sales process to becoming paying customers without you being involved.
In other words: the freedom you wanted when you started your business in the first place.
That's precisely what I help business owners like you do, and what many have called me the best in the world at, being featured in places like Forbes, Inc., Entrepreneur, and countless publications…
Not to mention engineering over 497+ profitable websites and sales funnels for clients in every imaginable industry who were sick and tired of their digital marketing efforts barely moving the needle.
In a world of talkers, there's only one thing that matters: results.
Jeremy McGilvrey Guarantees Results
Let's face it: there's a lot of smoke and mirrors in the world of digital marketing, which you've likely experienced. But unlike most gurus, which I'm certainly not…I've chosen to let my results do the talking.
Because I do one thing, and do it extraordinary well:
I turn your expertise into a stunning, data-driven website or sales funnel that makes an amazing first impression and answers the 3 key questions:
What do you do?
Why should I trust you?
How do I move forward?
Unfortunately, 88% of people will leave your webpage in less than 5 seconds if you don't quickly answer them.
But when you do:
You generate high quality leads on demand, turn browsers into buyers and exponentially grow your sales with an ever-increasing profit margin.
Which gives you as the business owner a revenue-generating asset that allows you to leverage digital marketing to grow and scale your business.
Jeremy McGilvrey Creates Tightly Engineered Sales Funnels & Websites
When it comes to a conversion-based website or sales funnel, most people get caught up in one of two worlds:
They either have a beautifully designed website that has incredible branding with zero conversion elements that have been proven, tested and reverse engineered for success.
This is like having a Lamborghini parked in the garage. Sure, it's nice…but what's the point if you never take it for a spin?
Then, there's another camp.
Their website does have conversion elements but looks as if it was made by their 3rd cousin who studied marketing in their basement with cheap design that sends prospects running for the hills.
Or maybe you're somewhere between these two.
I've dedicated the last decade to merging stellar design that instantly puts you in the "premium" bucket in your consumer's mind within the first 3-5 seconds of landing on your site built on a backbone of what truly converts.
The result? Your business finally has a conversion-centered website or sales funnel that delivers ROI in perpetuity. All you need is to get this right once and it pays off time and time again as:
You make an incredible first impression.
You generate instant trust and high-value authority.
You move prospects through the sales process effortlessly.
In other words: a highly converting website or sales funnel is the most important revenue-generating investment you can ever make for your business.
Especially when so many brands, products and services get it wrong.
By getting it right, you'll eliminate 90% of your competition from your prospect's mental real estate and not be seen as another option in a sea of mediocrity…but the only option.
But don't take it from me…
Take it from business owners just like you who were tired of their prospects choosing their competition when they knew they had a superior brand, product, or service.
When my clients come to me, there's a clear "before":
An underperforming digital presence
Website or sales funnel that doesn't convert
Terrible design that reduces trust and value
I may as well be giving my clients total makeovers, since they come in looking one way and leaving like Victoria's Secret models…in terms of their website or sales funnel, of course.
Take a look at the transformation my team and I took Joseph Oniwor's business and brand through (on the image below: slide to the right to see the before, slide to the left to see the after).
Before
After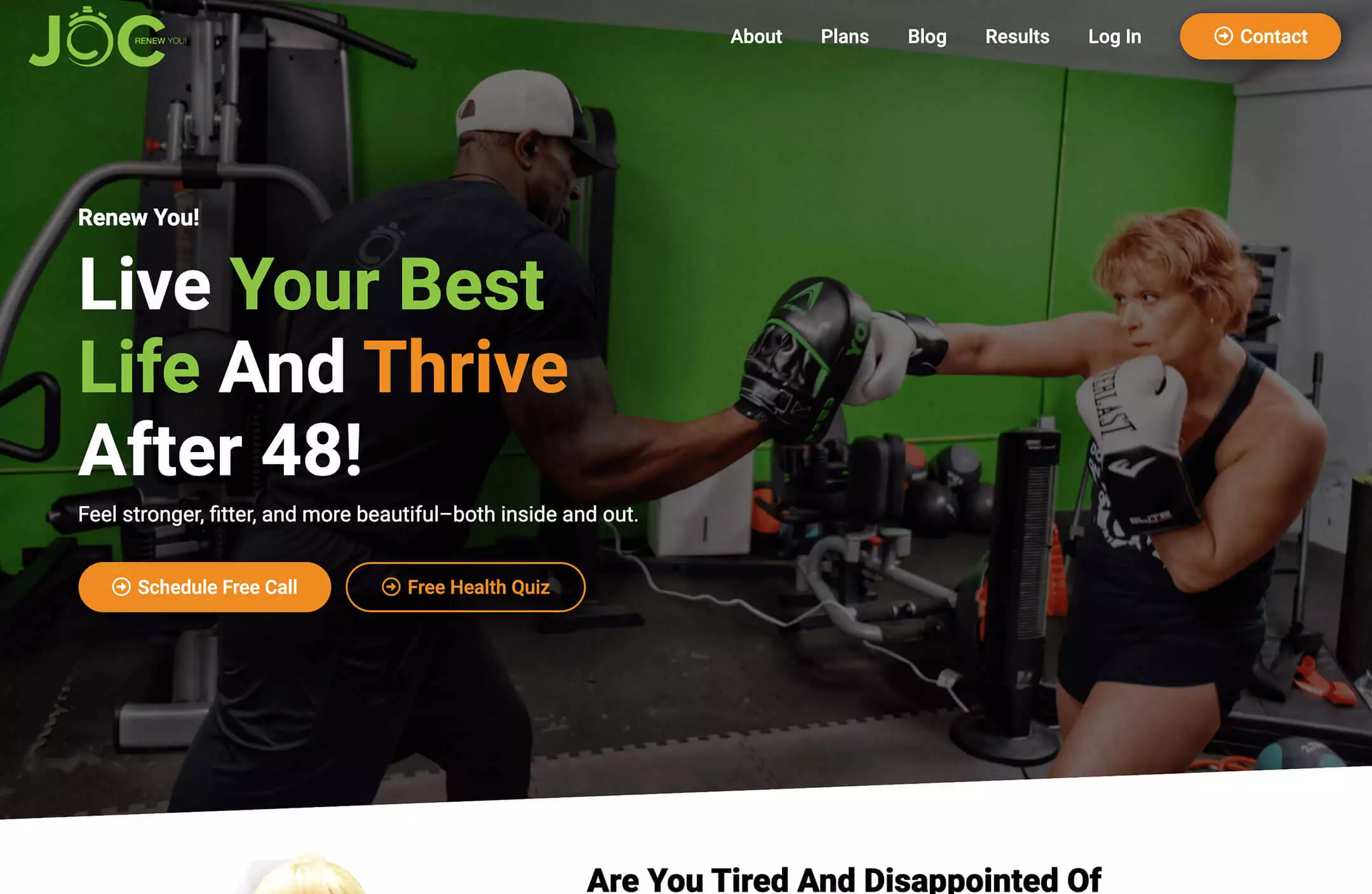 A case study featuring my client Joseph Oniwor, owner of JOC.
Joe Oniwor
"Today marks the end of our several-week long engagement with Jeremy. I do sincerely mean it when I say that I am grateful for the insights he provided, the knowledge he imparted, and the new course for my on-line presence and lead generation systems that he has helped chart.
It was amazing to me how deeply Jeremy immersed himself into the brand identity to the point that he was able to articulate all the strengths of JOC and communicate the value better than I could have imagined.
The last 6 weeks have been full of Jeremy guiding me through a complete restructuring of the client experience, implementation of new processes and controls, realignment of resources, investment in new technology, and all the other business operation changes that were badly needed.
Over the last few months Jeremy has helped me prioritize and automate the new action based on marketing to make better decisions and re-align key segments of the business.
All throughout that process, I noted that he never pushed solutions or decisions on me or in any way tried to impose anything. Rather, he ensured that he furnished me with the necessary information and context, and in some cases provided coaching and mentorship, but then he allowed me room to make the calls. I believe that through this process I have learned a great deal from Jeremy and he has positioned me to be successful.
My expectations for this engagement with Jeremy have all been more than met and have exceeded every one of them. I look forward to our next opportunity to work together and I would highly recommend his services." 
If you're still on the fence… click here now and get a fast quote!
What my team and I do for clients like Joseph is nothing short of extraordinary, and it's exactly what we'd love to do for you…
We'd love to help you take your skill set, expertise and package it with conversion-focused design that instantly increases your value in the marketplace…and marry it with flawless functionality to create what any great website or sales funnel should do:
Take a stranger and turn them into a paying client, satisfied customer, and raving fan that comes back for more…virtually 100% automated.
Jeremy McGilvrey LinkedIn
There's one common regret that comes from my clients…and it goes like this:
"Jeremy, I wish I'd found you years ago…this is exactly what I've been looking for."
Which is why every website or sales funnel comes with an ironclad guarantee no one in my industry is willing to match ‐here's how it works:
If for any reason you feel disappointed by the work you receive from us, we'll promptly refund you every penny you paid. Our position is simple: we don't deserve to take money from you if we can't make money for you.
Bold? Surely…but when you're committed to results instead of hype, you're able to make that guarantee with confidence.
But that's not all. Here are some other reasons why my clients love working with me:
There's one common regret that comes from my clients…and it goes like this:
"Jeremy, I wish I'd found you years ago…this is exactly what I've been looking for."
Which is why every website or sales funnel comes with an ironclad guarantee no one in my industry is willing to match ‐here's how it works:
If for any reason you feel disappointed by the work you receive from us, we'll promptly refund you every penny you paid. Our position is simple: we don't deserve to take money from you if we can't make money for you.
Bold? Surely…but when you're committed to results instead of hype, you're able to make that guarantee with confidence.
But that's not all. Here are some other reasons why my clients love working with me:
Ironclad money-back guarantee
Harvard educated
I'm my own best customer, I practice what I teach (sadly, this is rare)
Hundreds and hundreds of raving reviews (Trustpilot, Google, Amazon, Upwork)
Largest publications on the globe have featured my marketing strategies (Forbes, Entrepreneur, Huffington Post, etc.)
Authored 2 bestselling business books (Instagram Secrets & CEO)
Created data-driven sales funnel calculators
Two Comma Club Awards (4 in total)
Authored a chapter in Russell Brunson's book (30Days.com)
Obsessively track heatmaps and screen recording software (more on that later)
Unlike 99% of digital marketing "experts" and so-called gurus: I back up everything I say with the truth – showing you the mistakes I've made as well as the world-class successes I've created for myself and hundreds of business owners just like you.
Jeremy McGilvrey Websites
Take a look at some of the amazing webpages my team and I created for our clients…
What your business could (and should) look like too!
Yes, yours could be next.
At first glance, these may look like (great) websites and sales funnels. And they are. But there's much more going on: every square centimeter of every page has been reverse engineered for success:
Every image.
Every header.
Every button.
In fact, I've spent hundreds of hours watching recordings of users interacting with websites and sales funnels through a software called Mouseflow.com.
This powerful software allows me to watch your website's or funnel visitor's every single move, clicks and actions (or inactions). And it's not simply heat maps, but an actual recorded screen and the exact movements a person makes on a webpage.
What does all of this mean to you?
I've spent hundreds of hours watching exactly how people interact with websites and landing pages. I know precisely what entices them to convert or abandon your webpage and go back to looking for the bottom of their TikTok or Twitter feed.
I know how people act in the real world, instead of regurgitating philosophies I read in the latest online marketing book or saw on a YouTube video.
Unquestionably, my obsession of staring at my computer screen for hours and hours tracking user movements provides me with a massive unfair advantage over my competitors when it comes to creating tightly engineered websites and sales funnels.
My process has been fine-tuned over hundreds of clients and is now an art and a science that transforms businesses at various stages: some stuck on a plateau, some bleeding conversions, and others who simply want to get to the next level.
Oh, and by the way…I've assembled what I consider to be the Avengers of cutting-edge digital marketing specialists: content writers, graphic designers and coders who are insanely great at their narrowly focused skillset.
In other words, the best in the world.
So instead of having to piecemeal your project and find "random" freelancers who ghost you for weeks on end….
When you hire my team, I will take care of everything you need.
Which means you don't have to put your entire life and business "on pause" and instead can focus on the needle-moving, revenue-generating work that produces results while my team and I work in our lab and get your project to the finish line.
Need killer content that turns heads?
Want branding that instantly stands out?
Looking for email marketing that converts?
We've got you covered…and then some!
As one of Upwork's highest-rated freelancers in the world who's achieved Expert-Vetted status, granted to the 1% of freelancers plus a world-class team…
You've never been in better hands when it comes to a data-driven, captivating, tightly-engineered website or sales funnel.
Jeremy McGilvrey Instagram
When I'm not building tightly-engineered webpages and sales funnels…
I'm writing best-selling books such as Instagram Secrets and CEO, as well as articles and contributing to some of the world's most respected brands and publications.
And guess what? One of the reasons I do this is because there's way too many so-called digital marketing "experts" who don't practice what they preach.
In other words, they don't have a highly converting sales funnel and brand…and yet are selling it to others!
Doesn't that seem…a bit off?
It's like hiring a personal trainer who's 39 pounds overweight or a business coach who lives with their parents. You Google their name and hear crickets…which is always a 'red flag' for me.
Because if you can't do it for yourself – how can you possibly sell it to others?
Studying Internet Marketing books while Tristan's mother was in labor illustrates the level of urgency I had to figure this online marketing stuff out.
Above is a picture of me studying an online marketing book during one of the most pivotal moments of my life…the day my son Tristan was born. I show this to you simply because oftentimes, we'll do more for people we love than we'll do for ourselves.
When someone asks what drives me, why I can't be content with "good" and need to pursue greatness…it's because the number one thing I want my boys to know about is that their father never stopped trying. It's what drives my pursuit for knowledge.
In that hospital room, I quickly realized my level of responsibility had never been higher, and I knew I had to do everything it would take to give both of my boys the lives they deserved.
In my mind, the best way I knew I could provide for my boys as well as ensure I was a father they could be proud of was to…
Master internet marketing
Win ClickFunnels Two Comma Club Awards
Become a bestselling author
Convince Forbes, Huffington Post, Entrepreneur, etc. write about me
Provide content to my students and results for my clients that was invaluable
Constantly increase my skill set and never take my success for granted
I've worked extremely hard to achieve virtually everything I envisioned when I had less than $10 in my bank account. I saw the items listed above in my mind, then I went to work and eventually saw each of them in physical form.
I envisioned one day I'd become a #1 bestselling author. As the result of the success of Instagram Secrets and CEO I've accomplished this goal several times over.
I envisioned one day I would make an impact that would be heard around the world. I've since been featured in Forbes, Entrepreneur, the Huffington Post, and virtually every other major publication on the planet.
I envisioned working with ClickFunnels creator and Internet Marketing King Russell Brunson. I've since been asked personally by Russell to write a chapter in his book, and I partnered with him on the 30Days.com summit.
I envisioned I would walk across the stage and receive a ClickFunnels Two Comma Club Award. I've since done just that, experiencing one of the proudest moments of my life by walking across the stage with my son Tristan in my arms.
Jeremy McGilvrey and his son Tristan McGilvrey winning the ClickFunnels Two Comma Club Award in 2017 for producing over $1,000,000 in online sales.
These visions, these dreams in my heart would have never have become reality without the discovery that changed everything – the discovery that I had to continuously invest in myself, my education, and my brand…
Beyond the achievements listed above, I regularly dreamt about making an impact on others who were willing to face their fears, not get addicted to distractions and fight for their dreams.
I like to remind my students: If you provide the want to, I can provide the how to.
But let me be crystal clear…
I am NOT the guy for you if you're seeking to get rich quick.
I am NOT the guy for you if you're looking for the "easy way" to succeed.
I am NOT the guy for you if you're not willing to sacrifice and put in the work.
However, if you're able to embrace the adage: short-term discomfort produces long-term happiness…
If you're willing to push past your self-imposed limits…
I will do everything in my power to help you achieve the dreams you carry in your heart.
Jeremy McGilvrey's Students
These aren't simply students, they're family.
Don't look at the teacher; look at his students…
My students believe I'm the best in the world at what I do, but not merely because of my accomplishments as an author and entrepreneur.
They call me the best because I deliver honesty, passion, and experience when it comes to the time-tested advice I give them.
I trust that my students will persist until they prevail, and they trust that I will be there to deliver the encouragement and guidance they need to succeed.
It's that kind of partnership that's allowed me to achieve my dream of making an impact on those who are willing to put in the work necessary to achieve their dreams…
That's why I no longer judge myself by my own accomplishments. I now judge myself by the accomplishments of my students.
That measuring stick – that desire to help my students reach out and grasp their wildest dreams is why I'm not afraid to share every secret that led me to the pinnacle of the online marketing industry.
Like I mentioned in the text above; I've reached the mountaintop of the online marketing industry…
I've authored several #1 bestselling books…
I've been featured in Forbes, Entrepreneur, the Huffington Post, and more.
I've partnered with industry titans like Russell Brunson…
I've joined the Two Comma Club many, many times for generating more than $1,000,000 in sales funnels…
Now, with all of the experience I've gained through trial-and-error, I feel it's my duty, my obligation and a requirement to pay it forward.
That's why my mission is to continue educating my students through the insights, discoveries, and strategies that helped me achieve each of the goals above.
However, I don't want to stop there…
I want to help other business owners like you take their companies from brick-and-mortar to click-and-order by implementing the exact same strategies that have worked for me.
As I like to remind my clients: I'm my own best customer. I practice what I teach. Not only can I sell you on hiring me to help you build your online business…
I can actually get results.
Too many "online experts" say they can do for you what they cannot do for themselves.
That really, really frustrates me.
I know first-hand what works because I've done it and achieved extraordinary results.
Whether it's…
Bestselling Book Funnels
Free + Shipping Funnels
Service-Based Funnels
Membership Funnels
Quiz Funnels
Webinar Funnels
Or virtually any other type of funnel
I've built the funnels above (and more) and I've fine tuned them so they convert at the highest levels possible.
If you've made it this far, you owe it to yourself to take action and allow my team and me the privilege of transforming your business and brand.
Remember: the clock's always ticking and there'll never be a "perfect" time to start.
As I said earlier, nearly all of my clients end up telling me they wish they'd gotten started months or even years earlier.
You and I don't know how much time we have and our businesses aren't just about revenue…they're about our livelihood, our freedom and supporting those we love.
Don't wait and grab your fast quote! now.
Because of my Ironclad 100% money-back guarantee: You have absolutely nothing to lose, and everything to gain.
Sincerely,